Shipments
Our first shipment this year is on its way, due to arrive in Banjul , The Gambia on 23rd April. It will then be collected by Sankung, taken through customs and loaded onto local transport and taken 200km up-country to Si-Kunda to then be distributed appropriately. This shipment comprises of mainly stationery for the schools and medical supplies.
Friendship Gardens
The wells in the gardens have been made deeper, and now have sufficient supplies to last the year round – last year we were struggling towards the end of the dry season so we wanted to make sure that problem does not happen again.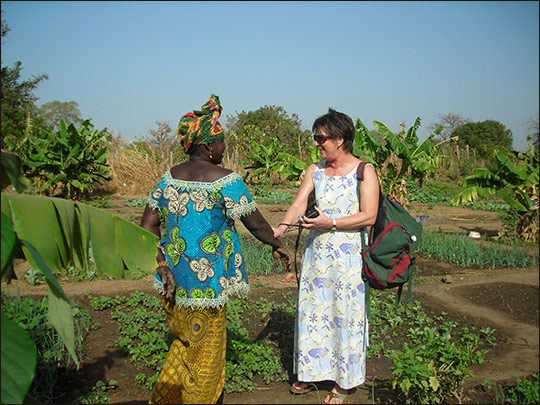 We have also extended the garden area to enable more women to take part in growing vegetables for their families. So many types of vegetables, salads and fruits are being grown, and the women are so proud of what they are doing. Sankung's mother had a bumper crop of potatoes last year which she was able to sell; cabbages and onions seem to grow particularly well also.
We are very proud of this project as it has proved beyond doubt just how valuable it is every year it has been in existence.
Skills Centre
We have converted half of one of the large storerooms into a community library. This is self contained, with two doors – one leading out to the back yard area which has seating and access to the toilet block.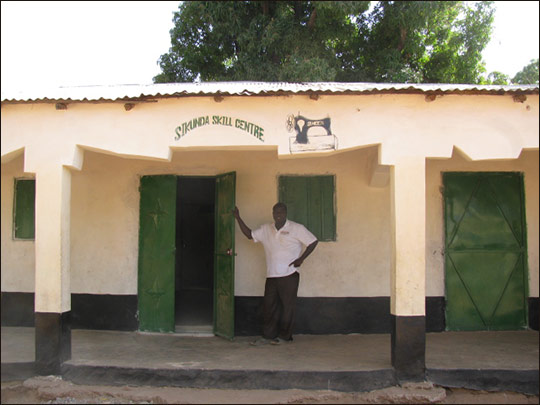 Metal shelving has been fitted, with lots of books lining the shelves available to be shared and borrowed.
We are planning to tile the floor in the sewing room this year, and there were two wooden doors that needed replacing which we have done recently, so now all the doors are metal.
Soma Hospital
We continue to send supplies to the hospital twice a year, with the next shipment due end of April.
We have been told that all the laboratory equipment we have supplied over the past few years is still working well and highly valued.
Red Cross
A new door with a lock and a window were needed in the office of the Red Cross, so we have now had them replaced.
Si-Kunda Nursery School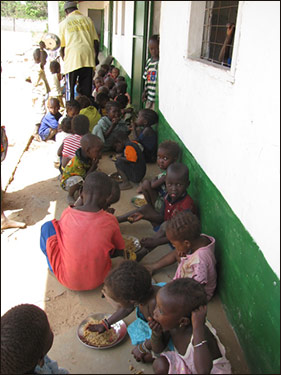 A lot of changes and improvements have been made, there is always more still to be done, but we are pleased with the progress so far. We have employed a new gardener\caretaker, Alphonse. So the garden is doing well, the children are receiving lunch Monday to Thursday, the school grounds have been cleared and a wall built to separate the gardens from the play area.
The well has a new cover, and the PTA has been formed and meetings have started. The school has been re-painted, minor roof repairs that were needed have been done, shelving made, and much more done to improve the school. We need to replace the big blackboards, and the children's desks and benches could do with replacing, so these are on our 'wish' list.
New Compound
Work has now started on the land we purchased in Busumbala. We now have water on tap, which is going to help immensely! The ground has been cleared, and supplies have been purchased to build the dividing wall between this land and the neighbours. Once that has been done then the build of the compound house can be started. This will be large enough to accommodate any of our sponsored students who need a home while at further education near the coast.